It's London Fashion Week AW14 Yay! I've actually been more excited for the this year's shows compared to previous years, almost like there's a new change coming and what better to reflect this change than new and existing fashion houses. So if you are out and about in London there's lots and lots to do to fill your visit. You do not have to secure a front row ticket to get involved. But if would still like to buy tickets, you can, for the
London fashion weekend
shows sponsored by Vodafone. Are you ready? I am. Camera in hand, thralling somerset house taking cool pics of fashion creatives and new fantabolous inspirational trends.
Visit the British Fashion Council Pop up Store at Somerset House - 'THE SHOP'
Friday 14th – Sunday 23rd February 2014
9.30am - 7pm daily (except 18th and 23nd February: 10am -6pm)
Closed on 19th February
Somerset House, Strand, London WC2R 1LA
Access between the 20th – 23rd Feb will only be available to Vodafone London Fashion Weekend ticket holders. Visit www.londonfashionweekend.com for tickets
The pop-up will be set across two rooms in the West Wing of the ground floor of Somerset House. On sale at The Shop will be ready-to-wear clothing and accessories from different designer brands. There will also be an installation to celebrate National Nestbox Week which runs over London Fashion Week.
Juergen Teller 'Bus Stops' exhibition
Busy Londoners with no time to visit art galleries will be able to enjoy a photography exhibition from the top decks of London's buses from tomorrow.
The unprecedented 'bus stop top' exhibition will display Juergen Teller's photographs, featuring Vivienne Westwood, Kurt Cobain, Kate Moss and Bjork, on the roofs of London's bus shelters.
Visit London Old Spitalfields Market
Where: Brushfield Street London, E1 - near the infamous petticoat lane and in close proximity to Liverpool Street Station.
Spitalfields is one my favourite shopping destinations; the people, the layout and unique designs are a must-see when visiting. Full of talented creative Londoners, there's plenty to buy. Make sure you hold enough cash. Also, check out vintage stalls and food units; I love the falafels.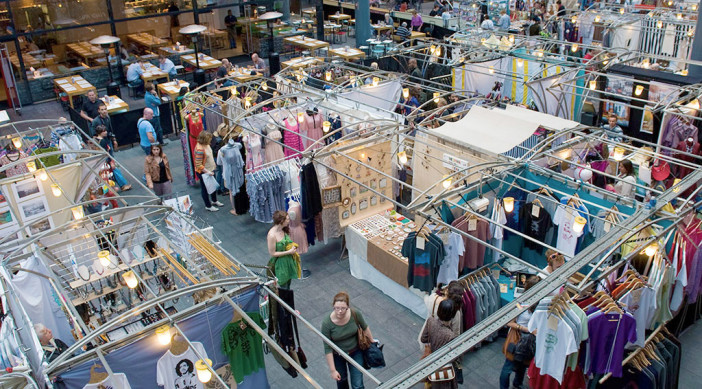 Visit The Fashion and Textile Museum - http://ftmlondon.org/whats-on/exhibitions/
I love love the FTM. My first visit was for the 'The Glamour of Bellville Sassoon' exhibition. Loved it so much I had to do 2 tours of the exhibition room. If you are in london for LFW, it's worth checking out the current exhibitions like; 'Artist Textiles - Picasso to Warhol'. Besides exhibitions, there are also workshops to get you immersed in the art of fashion.
Virtual front row access to LFW shows via Topshop Oxford Street Store
MA14 – London College of Fashion's MA exhibition
The Graduate School is showcasing the work of more than 200 students from all four programmes: Business & Management, Culture & Curation, Design & Technology and Media & Communications. The exhibition is open to the public 11 - 16 Feb at Victoria House Basement
11 Feb - 16 Feb 2014 12:00
MA14 Exhibition
Exhibition
London College of Fashion
Status: Open
Victoria House Basement Bloomsbury Square, London WC1B 4DA
14 Feb - 14 Feb 2014 10:30
MA14 Catwalk Livestream
Exhibition
London College of Fashion
Status: Open


London Fashion Weekend

Schedule - Trend Catwalk Shows
Designer Catwalk Shows
Click here for Tickets


Party on a Bus like a Rock Star
A live TV broadcasted event.
Time Date: 15th - 17th Feb; 10AM - 4PM daily on the Strand, opposite Somerset House
Live DJ sets by FAKE CLUB / Gabby Young and Other Animals / The Glitter Beats
Hosted by V V Brown and Philip Colbert of The Rodnik Band
Exclusive RODNIK x Shopcade T-shirts
Free make up and styling sessions by AOFM Makeup
Be photographed and featured on Shopcade mobile app
Free drinks + goodie bags while supplies last
RSVP TO RSVP@FORWARDPR.COM
'Help A Capital Child' - LFW Closing Party
Fashion party raising funds for Capital FM's charity 'Help A Capital Child'. There will be music, DJs, live bands, catwalk shows, a bar, free drinks for guests on entry, a celebrity memorabilia auction and raffle to raise funds for the charity and a dancefloor until late.
Olympic Athletes from Team GB who were born & brought up in London will be amongst the models on the night. London-based designers who have graduated from Saint Martins College and other London fashion colleges will have their latest designs in the catwalk shows.
Date(s): 19-February-2013 19:00-23:59
Time: 19:00 - 02:00
Address: Village Underground, 54 Holywell Lane, Shoreditch, London, EC2A 3PQ
Main contact: Harry MaguireTelephone:
+44 (0) 20 8581 2190
Email: harry@londonethnic.com
Website: http://www.capitalfm.com/london/charity/london-ethnic/
Finally, remember to take note of installations around London celebrating LFW. Loving Oasis's Oxford Circus carousel installation.